Departure to Rio with God's help: Koukal advised Krpálek how to carry the flag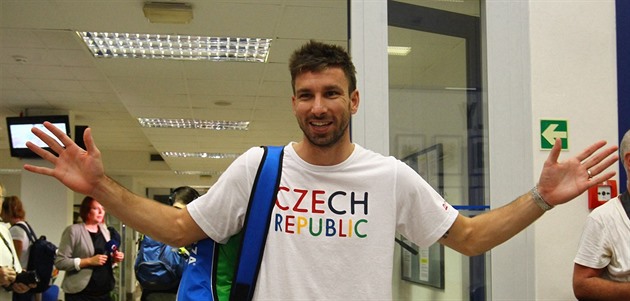 Judge Luke Krpálek stepped out of the car, staring with his wife Eva for the photographers and lastly stroking the newborn son of Antonin. The family must leave because of the Olympic mission, at the end of which the joy of medallion is to end. And at the beginning of it Krpálka will see the whole world – at the ceremonial opening will carry the Czech flag.
"It is a great honor and tribute to me, I am glad that the athletes have chosen me. I will try to give maximum performance, "promised a powerful flag at the military airport in Prague Kbely.
In the parking lot he met his predecessor, badmintonist Petr Koukal.
"I will have to ask how Peter did.I had a premiere at the European Games in Baku at the end, so I'm glad I tried it, "Krpálek said. "It was a wonderful feeling. I was afraid I did not go straight to the athletes, and now we enjoy it together. I will try to carry the flag as high as possible to see it. "
He was looking for a friend, Krpálka said," When he greeted me outside, he almost broke his hand. He is so stronger, so I hope he will not break the flag like a match in half. "He says he wants a special grif who likes the 25-year-old Judy to learn." The 30-year-old badminton awaits Brazil's last career tournament. As a principle person, he does not intend to change his previous decision.
"For the first time, I'm finally starting to look forward.For a long time I was waiting for the final decision, while I was chasing around – arranging, training…I did not have time. It started only in the morning when packed. When I sit on an airplane, it will start full. We have already been there, "Koukal told journalists.
His wife Gabriela has biathlon duties, so she missed the airport. "But I hope he will cheer me," he smiled, revealing that he had received a letter instead of a talisman. "I should have read it in Rio, but I did not stand it."
Krpálek admitted that he would be a bit worse off the separation from the family. "It's hard to get away, I have a son at home for only a month, but we've played together. It was hard to say goodbye and go for twelve days. I'm already looking forward to coming back.I would definitely want to bring a little medal to the little one and tell him that I won her for him. That would be nice. It will be hard, but I hope it will come out. "
The desebo-boy Adam Sebastian Helcelet is not worried like his colleagues. His partner is a runner Denisa Rosolová, who also flew. The loved athletes arrived together, holding their hand on the way to the check-in hall.
There was a little confusion inside the small space – the Olympians surrounded the reporters and television crews, with the temperature rising even more. "At least we get used to Rio," someone said.
> Otherwise, the athletes repeated what had already been said in previous departures.Of course, everyone is looking forward to Brazil at the Olympics.
"I have a friend Ziki, I'm afraid of a lot, he's dangerous," joked a well-tuned Koukal.
uniform "with the colorful inscription CZECH REPUBLIC also dressed Oldřich Chocholáč, who will not compete and, unlike Koukal, his profession is to be calm and serious. He is a Catholic priest and is the official chaplain of the Czech Olympic team. Will the heavens help the success of the Czechs?
"It is said: Man, please, Lord God will help you. I believe the athletes have done great.That's how we can all pray for the heavens to really help, "the clergy replied.
Then the Olympic delegates went on the plane and symbolically approached the heavens. A day later, under the statue of Christ the Savior, a grand opening is in Rio de Janeiro. With God's help, fans of the family, themselves and their families, who have been so hard to leave now, will be happy…